29 May

Seminar on heat stress management in swine and poultry in Laibin (China)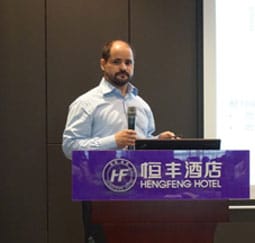 Last May 25 to 27th, Phileo organized a seminar on heat stress management in swine and poultry in Laibin (China). The event gathered more than 70 attendees.
Martin LIU, Phileo China manager, made a speech on Phileo. Then, the first topic on how to manage sow and piglet in heat stress condition was covered by Gilles Langeoire, specialist in pig nutrition. Yoann Perrault, APAC Phileo swine technical manage, talked about Program Neonate. It covers every management stage throughout the productive life of the sow. The objective is two-fold: to increase the productivity of sows throughout their lives, and to improve the quality of their piglets.
Antonio Garcia, Phileo global operational R&D manager, covered heat stress management in Poultry. Laurine Faivre, APAC Phileo poultry technical manager, explains how Safmannan, the premium parietal fractions, can improve poultry immunity and health performance. Finally, Jason Zhou, Phileo China technical manager, explains differences between organic and inorganic selenium. Among the different available products, Selsaf, premium yeast rich in selenium, is characterized by its natural origin, its maximal bioavailability and its consistent composition. Recent trials showed that Selsaf improves animal growth and health performance.
The seminar ended with the visit of Lesaffre manufacturing plants, Guangxi Danbaoli Yeast Co.and Biospringer, in Laibin.